Meet your doctor
Francis

Mendoza

,

MD

Orthopaedic Surgery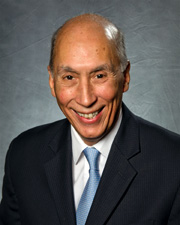 About your doctor
Male
33 years in practice
Fluent in English
Board certifications
Orthopaedic Surgery - American Board of Orthopaedic Surgery
Dr. Mendoza is an orthopedic surgeon with an aerospace engineering background. He has specialized in the treatment of shoulder conditions for over 30 years. He is a member of an international team that led to the design of a shoulder replacement system which is currently in use throughout the world. As a Smith and Nephew consultant, he regularly teaches practicing orthopedic surgeons the latest surgical techniques.
Professional & Academic detail
Affiliations:
Medical school

Columbia Univ College of Physicians and Surgeons

Residencies

Mount Sinai St Lukes-Roosevelt Hospital Center
Columbia University College-Physicians & Surgeons

Fellowships

Columbia University College-Physicians & Surgeons
(212) 628-9600
Make an appointment
333 East 56th Street
Office #1
New York, NY 10022
Insurance Information
Don't be surprised.
Learn how you can avoid unanticipated medical bills.